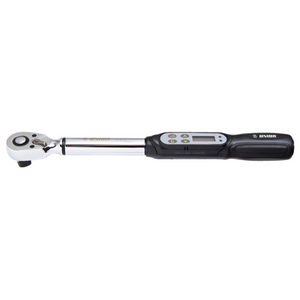 Tools with verified quality
Unior Hand tools are in compliance with the European and global quality standards. Unior is striving to assure the high quality of hand tools also as a fully authorized CEO (European Tools Committee) member.
Unior was among the first manufacturers of hand tools in Europe to receive ISO 9001 quality certificate. In 1994, the company received ISO 9001 quality certificate for the development, production and marketing of hand tools, sheet metal housing for hand tools and mechanical processing of forging parts.
Unior tools are in compliance with DIN standard. Since 1991, the tools for working at high voltage also proudly hold VDE certificate, issued by VDE Institute- "Pruf und Zertifizierungsinstitut" from Offenbach in Germany.
Electronic Torque Wrench
Torque wrench specially designed for work on bikes. Both versions in a size to best fit the intended use, precise and easy to use. Smaller version features a ¼Ë square drive and will allow you to work on even the most hidden bolts with low torque values. Bigger version features ½Ë square drive and will accept all our bottom bracket sockets, suspension top cap sockets and cassette lock rings without any adapters.
Two x options 1-20nm and 4.3-85nm
Antislip handle
Target torque warning: buzzer + 2 LED lights
Operation mode: peak hold / track
Unit selection: N-m, in-lb, ft-lb, kg-cm
Gear teeth: 60
Battery: 1×AAA (not included), compatible with rechargeable battery
Warranty: 10.000 cycle / one year
Online calibrations
Auto power off after 5 min